AMSAT NEWS SERVICE
ANS-065
The AMSAT News Service bulletins are a free, weekly news and information service of AMSAT, The Radio Amateur Satellite Corporation. ANS publishes news related to Amateur Radio in Space including reports on the activities of a worldwide group of Amateur Radio operators who share an active interest in designing, building, launching and communicating through analog and digital Amateur Radio satellites.
The news feed on http://www.amsat.org publishes news of Amateur Radio in Space as soon as our volunteers can post it.
Please send any amateur satellite news or reports to: ans-editor [at] amsat.org
You can sign up for free e-mail delivery of the AMSAT News Service Bulletins via the ANS List; to join this list see: https://mailman.amsat.org/postorius/lists/ans.amsat.org/
In this edition:
AMSAT Receives $93,795 ARDC Grant for 3U Spaceframe Development
Ray Soifer, W2RS, SK
ARISS to Support Axiom Space Crew Members on First Private ISS Mission
VUCC Satellite Awards/Endorsements For March 2022
Changes to AMSAT TLE Distribution for March 3, 2022
ARISS News
Upcoming Satellite Operations
Hamfests, Conventions, Maker Faires, and Other Events
Satellite Shorts From All Over
ANS-065 AMSAT News Service Weekly Bulletins
To: All RADIO AMATEURS
From: Radio Amateur Satellite Corporation
712 H Street NE, Suite 1653
Washington, DC 20002
DATE 2022 Mar 6
AMSAT has just received a generous grant from Amateur Radio Digital Communications (ARDC) for the development of a 3U spaceframe with deployable solar panels. This standardized 3U CubeSat space frame will serve as the mechanical platform for AMSAT's GOLF series of satellites as well as a new generation of low earth orbit FM satellites. The spaceframe design will be available to the public under an open access agreement.
Central to the development of the 3U spaceframe, AMSAT will build three flight-ready spaceframes for an upcoming series of satellites with potentially enhanced flight control, payload and communication capabilities.
The need for a 3U spaceframe with deployable solar panels goes back to the original design requirements for the Greater Orbit, Larger Footprint (GOLF) satellites that would return AMSAT to Highly Elliptical Orbits (HEO). The benefit of this program will provide satellites with wider coverage and longer access times to the entire Amateur Radio satellite community worldwide.
While that requirement still stands and the development of the GOLF satellites moves forward, the AMSAT Board of Directors' decision to approve an additional new series of Low Earth Orbit (LEO), named Fox Plus (Fox+), underscored the need for a more robust spaceframe that can support advanced educational and experimental payloads in LEO as well. The payload and power capabilities of such a spacecraft would serve as the platform for a series of higher-power satellites in LEO that would carry educational and scientific experiments in support of AMSAT's Youth Initiative (KidzSat). This series of satellites, referred to as LOWER (Lower Orbit Within Everyone's Reach) would be highly accessible to youth participants with the most rudimentary equipment.
Robert Bankston, KE4AL, AMSAT President, comments, "This grant not only accelerates AMSAT's efforts to fly satellites with greater communications capabilities at higher orbits, it supercharges our efforts to bring educational opportunities and engineering innovations to Amateur Radio satellite at all orbits to hams around the world. While our LEO satellites help entry level hams become enthusiastic about space communications, our HEO satellites give advanced users the opportunity to push the limits of technology. Both programs are important to AMSAT's mission of education and scientific advancement."
"AMSAT is indebted to ARDC for helping to bring this effort closer to reality. Still, with this generous award, AMSAT must still fund an additional $231,000 for other hardware development and launch preparation costs for just one GOLF series satellite. Our continued effort to raise funds is essential if we are to Keep Amateur Radio in Space."
As mentioned above, the new spaceframe is key to the development of the GOLF and Fox+ programs. Jerry Buxton, N0JY, AMSAT Vice President – Engineering leads the development of the GOLF satellite program while Jonathan Brandenburg, KF5IDY, Assistant Vice President – Engineering leads the new Fox+ program. Both RF Engineers and Mechanical Engineers are sought to help bring these programs to fruition. Potential volunteers should refer to https://www.amsat.org/volunteer-for-amsat/ for more information on how they can become part of this exciting move forward.
[ANS thanks Frank Karnauskas, N1UW, AMSAT Vice President – Development, for the above information.]
+=+=+=+=+=+=+=+=+=+=+=+=+=+=+=+=+=+=+=+=+=+=+=+=+=+=+=+=+=+=+=+=+=+=+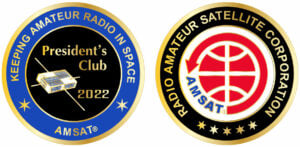 The 2022 AMSAT President's Club coins have arrived!
To commemorate the 50th anniversary of its launch on
October 15, 1972, this year's coin features
an image of AMSAT-OSCAR 6.
Join the AMSAT President's Club today and help
Keep Amateur Radio in Space!
https://www.amsat.org/join-the-amsat-presidents-club/
+=+=+=+=+=+=+=+=+=+=+=+=+=+=+=+=+=+=+=+=+=+=+=+=+=+=+=+=+=+=+=+=+=+=+
Raphael (Ray) Soifer, W2RS, passed away on March 1, 2022 at his home in Green Valley, AZ. He was 78 years old.
Notably, as a teenager in 1960, Ray (then K2QBW) completed the first known amateur radio QSO via satellite ionization trail reflection with future AMSAT Founding President Perry Klein, then-K3JTE (now W3PK). Time Magazine published an article about this accomplishment in its March 14, 1960 edition.
Building on his earlier achievements, Ray completed the first reported intersatellite relay communication between two earth stations in any radio service with Ben Stevenson, W2BXA, on January 26, 1975. This was done while AMSAT-OSCAR 7 and AMSAT-OSCAR 6 were in close proximity, allowing AO-6's 145 MHz to 29 MHz transponder to relay signals from AO-7's 432 MHz to 145 MHz transponder.
Ray held a number of AMSAT positions throughout the years, including serving on the Board of Directors and as Executive Vice President and Acting President.
A relentless promoter of satellite operations, he held DXCC Satellite #13 and Worked All Continents Satellite #6, earned entirely using LEO satellites. He also authored numerous articles for publications including The AMSAT Journal, QST, and RadCom.
From 1995 to 2005, Ray chaired the annual International Amateur Radio Union (IARU) Satellite Forum. He served as the Secretary and later Chairman of the IARU Region 2 VHF/UHF Committee and also served as a member of the IARU Satellite Frequency Coordination Panel.
An avid CW operator, Ray organized Straight Key Night – which later became AMSAT's CW Activity Night – for many years. This event is held on satellite in conjunction with the ARRL's annual New Year's Eve event.
Ray is survived by his wife and two sons.
More information on service arrangements and condolences will be published when available.
[ANS thanks the Green Valley Amateur Radio Club and AMSAT for the above information]
+=+=+=+=+=+=+=+=+=+=+=+=+=+=+=+=+=+=+=+=+=+=+=+=+=+=+=+=+=+=+=+=+=+
Need new satellite antennas? Purchase Arrows, Alaskan Arrows,
and M2 LEO-Packs from the AMSAT Store. When you purchase through
AMSAT, a portion of the proceeds goes towards
Keeping Amateur Radio in Space.
https://amsat.org/product-category/hardware/
+=+=+=+=+=+=+=+=+=+=+=+=+=+=+=+=+=+=+=+=+=+=+=+=+=+=+=+=+=+=+=+=+=+
Amateur Radio on the International Space Station, Inc. (ARISS-USA) is pleased to announce that two crew members scheduled to fly on Axiom Mission-1 (Ax-1), the first private astronaut mission to the International Space Station, will utilize the ARISS on-board radio resources to conduct six school connections via amateur radio.
These ARISS school contacts will be conducted with Ax-1 crew members Mark Pathy, from Canada, and Eytan Stibbe, from Israel. Both Pathy and Stibbe are fully trained on the use of the ARISS radio system, located in the ISS Columbus module, and have studied and passed their amateur radio license exams. Mark Pathy's amateur radio callsign is KO4WFH. Eytan Stibbe's amateur radio callsign is 4Z9SPC.
As part of the "Rakia" mission, Eytan Stibbe will use ARISS facilities aboard the International Space Station to hold talks with middle school and high school students in Israel while the ISS will be above Israel. A total of 40 school classes are expected to participate in the project, and in the weeks preceding the launch, the students from Israel will participate in theoretical and practical sessions to learn about radio-based communication.
Mark Pathy, under the personal mission theme of 'Caring for people and the planet', will connect with elementary and high schools across Canada while on board the ISS. Pathy will be answering questions developed by the students, ranging from how his body has reacted to being in space to how to do everyday things in zero gravity and thoughtful questions around the state of our planet. The conversations are part of Pathy's educational program through which schools also benefit from STEM content and mentorship.
"The long-held dream of private missions to stations in space becomes a reality on Ax-1. ARISS is proud to collaborate with Axiom Space, Mark Pathy, and Eytan Stibbe on this flight and support the Ax-1 crew members through amateur radio contacts that will inspire, engage and educate school students in science, technology, engineering, arts, and math (STEAM) topics," said Frank Bauer, KA3HDO, Executive Director of ARISS-USA and Chair of ARISS International.
"Axiom is proud to help enable the educational work of ARISS-USA on this historic mission," said Dr. Mary Lynne Dittmar, Executive Vice President of Government Operations and Strategic Communications for Axiom Space. "For years, ARISS and its programs have inspired students across the globe to pursue interests in science, technology, engineering and math, and we are pleased that Ax-1 will join the list of missions that have contributed to this important educational work."
The Ax-1 mission includes an international crew of four with Axiom's Michael Lopez-Alegria, former NASA astronaut and Axiom VP, serving as commander. The Ax-1 mission is currently scheduled to launch on March 30, 2022.
[ANS thanks ARISS-USA for the above information]
| Callsign | February 1, 2022 | March 1, 2022 |
| --- | --- | --- |
| K8YSE | 2007 | 2035 |
| WC7V | 1250 | 1256 |
| N8RO | 1124 | 1128 |
| N1AIA | 604 | 613 |
| VE1CWJ | 585 | 609 |
| AF5CC | 582 | 600 |
| ND0C | 555 | 561 |
| W8LR | 526 | 548 |
| S57NML | 409 | 508 |
| W2ZF | 276 | 467 |
| PV8DX | 423 | 428 |
| KC1MMC | 230 | 355 |
| W0JW | 103 | 341 |
| W4DTA | 301 | 327 |
| RA3DNC | 276 | 305 |
| VE3KY | 251 | 278 |
| KG4AKV | 100 | 254 |
| KE7RTB | 200 | 250 |
| N8MR | 206 | 227 |
| N3CAL | 214 | 224 |
| K3HPA | 201 | 205 |
| N0GVK | New | 203 |
| JH0BBE | 129 | 133 |
| W1AW | New | 103 |
| SA5IKN | New | 101 |
N0GVK is first home station from EN00 and 1st Nebraska
SA5IKN is first home station from Sweden and JO89
Is anyone ever going to catch that K8YSE guy?
[ANS thanks Jon Goering, N7AZ, for the above information]
The following satellite has been added to this week's AMSAT TLE Distribution:
NO-116 – NORAD Cat ID 51031 (NO-116 was formally SanoSat-1.)
At the request of AMSAT-Nepal, AMSAT hereby designates SanoSat-1 as Nepal-OSCAR 116 (NO-116). We congratulate AMSAT-Nepal and their partners, thank them for their contribution to the amateur satellite community, and wish them continued success on this and future projects.
[Thanks to ANS and Drew Glasbrenner, KO4MA, AMSAT VP Operations/OSCAR Number Administrator for the above information.]
The following satellite has decayed from orbit and has been removed from this week's AMSAT TLE Distribution:
Quetzal 1 – NORAD Cat ID 45598 (Deorbited Feb 27, 2022. Confirmed by Space-Track.)
[ANS thanks Ray Hoad, WA5QGD, AMSAT Orbital Elements Manager for the above information]
Contact schedule TBD
The USOS ARISS station is currently operating in voice cross-band repeater mode
The latest information on the operation mode can be found at https://www.ariss.org/current-status-of-iss-stations.html
The latest list of frequencies in use can be found at https://www.ariss.org/contact-the-iss.html
[ANS thanks Charlie Sufana, AJ9N, one of the ARISS operation team mentors, for the above information]
+=+=+=+=+=+=+=+=+=+=+=+=+=+=+=+=+=+=+=+=+=+=+=+=+=+=+=+=+=+=+=+=+=+
AMSAT, along with our ARISS partners, is developing an Amateur
Radio package, including two-way communication capability, to
be carried on-board Gateway in lunar orbit.
Support AMSAT's projects today at https://www.amsat.org/donate/
+=+=+=+=+=+=+=+=+=+=+=+=+=+=+=+=+=+=+=+=+=+=+=+=+=+=+=+=+=+=+=+=+=+
EA8/EA4NF: March 4-6 IL07, IL17 Hierro Island! If you want to try a QSO with this rare island, check FP and contact Philippe before to be in his NA shortlist.
From the Ohio/Penn DX Bulletin No. 1555:
PJ5, ST. EUSTATIUS. Frank, K3TRM will be active as PJ5/K3TRM from St. Eustatius Island (NA-145) between March 6-12th. Activity will be on 40-10 meters using SSB, RTTY, FT8 and the satellite. QSL via K3TRM, by the Bureau, direct, LoTW or ClubLog's OQRS.
(Note that PJ5 & PJ6 are one DXCC entity – Saba & St. Eustatius – please keep this in mind if you are chasing DXCCs and want to hop into a pileup!)
[ANS thanks Paul Overn, KE0PBR, AMSAT rover page manager, and the Ohio/Penn DX Bulletin No. 1555 for the above information]
AMSAT Ambassadors provide presentations, demonstrate communicating through amateur satellites, and host information tables at club meetings, hamfests, conventions, maker faires, and other events.
N4HF will be at two events:
Charlotte NC Hamfest (forum & demo(s), Saturday only)
March 11-12
Cabarrus County Arena & Events Center
4551 Old Airport Rd, Concord, NC 28025
https://charlottehamfest.org/
(Note: 2 day hamfest, but only open 4 hours on Friday the 11th.)
Raleigh NC Hamfest (info table and demos; possible forum, but not likely at this point)
April 16
Jim Graham Building – NC State Fairgrounds
4285 Trinity Rd, Raleigh, NC 27607
https://www.rarsfest.org/
Other events with a scheduled AMSAT presence:
+ CubeSat Developers Workshop
April 26–28, 2022
San Luis Obispo, CA
+ Hamvention 2022
May 20, 2022 to May 22, 2022
Greene County Fairgrounds and Expo Center
210 Fairground Road
Xenia, Ohio 45385
https://www.hamvention.org
+ 2022 Rocky Mountain ARRL Division Convention
October 7, 2022 – October 9, 2022
Event Center at Archer
3921 Archer Pkwy
Cheyenne, Wyoming 82007
https://wyhamcon.org/site
[ANS thanks Paul Overn, KE0PBR, AMSAT Events page manager, for the above information]
+=+=+=+=+=+=+=+=+=+=+=+=+=+=+=+=+=+=+=+=+=+=+=+=+=+=+=+=+=+=+=+=+=+
Want to fly the colors on your own grid expedition?
Get your AMSAT car flag and other neat stuff
from our Zazzle store!
25% of the purchase price of each product goes
towards Keeping Amateur Radio in Space
https://www.zazzle.com/amsat_gear
+=+=+=+=+=+=+=+=+=+=+=+=+=+=+=+=+=+=+=+=+=+=+=+=+=+=+=+=+=+=+=+=+=+
+ CubeSat Design Specification Rev. 14.1 has been released by the Cal Poly CubeSat Laboratory Team. It is available at https://www.cubesat.org/cubesatinfo
+ JAMSAT has posted the March FO-99 Operating Schedule at https://www.jamsat.or.jp/?p=1791
+ Ham Radio Outlet interviewed AMSAT President Robert Bankston, KE4AL, at the 2022 Orlando Hamcation. A video of this interview is available at https://www.youtube.com/watch?v=vNTK3TcJNWA
———————————————————————
Join AMSAT today at https://launch.amsat.org/
In addition to regular membership, AMSAT offers membership to:
* Societies (a recognized group, clubs or organization).
* Primary and secondary school students are eligible for membership at one-half the standard yearly rate.
* Post-secondary school students enrolled in at least half time status shall be eligible for the student rate for a maximum of 6 post-secondary years in this status.
* Memberships are available for annual and lifetime terms.
Contact info [at] amsat.org for additional membership information.
73 and remember to help Keep Amateur Radio in Space!
This week's ANS Editor,
Paul Stoetzer, N8HM
n8hm at amsat dot org